Rutherford's nuclear Model of Atom
Rutherford's nuclear Model of Atom is based on the gold foil experiment with alpha particles.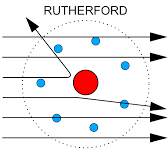 A gold foil was selected because it is very thin. The foil was bombarded by alpha particles which are Helium Nucleus.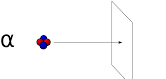 Most alpha particles pass through the gold foil because most of the atom is hollow.
Some Alpha particles are repelled by the nucleus because the nucleus is also positive and Alpha particles are positive Helium Nucleus.
Very few Alpha particles were bounced back because the nucleus is solid.
He proposed the following Atomic model:
Atom is mostly emplty or hollow except the dense center which is nucleus.
Nucleus has protons( positively charged particles) and Neutrons(Neutral particles).
Electrons ( Negatively charged particles) revolve around the nucleus in fixed circular orbits.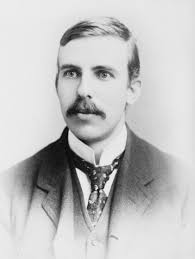 Read Bohr Discovery