Niels Bohr discovery
Niels Bohr discovery improved Rutherford's nuclear model by suggesting that the electrons revolve in the discrete energy orbits and they do not loose energy while they are in the orbit. Once they move from one orbit to another they emit energy.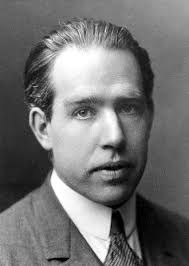 Niels Bohr 2n2 formula
Electrons are found by 2n2 formula in different shells where n=shell
So n=1 , 2 electron,
n=2, 8 electrons,
n=3, 18 electrons,
n=4, 32 electrons
He also suggested that outermost shell(orbit) cannot accommodate more than 8 electrons.
Energy of electron E= hv where h= plank's constant and v is frequency of electron.
C=vλ where c= speed of light and λ is wavelength . Thus frequency and wavelength are inversely proportional to each other.
Read about Quantum mechanical model of Atom