How to determine Iron concentrations in chem IA? To determine Iron concentrations in chem IA,You can use redox titration method between the sample (fruit or vegetable extract or Iron compound)and Potassium permanganate  solution.
During the titration between your sample and KMnO4 solution the chemical reaction will take place as per following mole ratio:
5Fe2+(aq) : MnO4 (aq)
5Fe2+(aq) + MnO4 (aq) + 8H+(aq) → 5Fe3+(aq) + Mn2+(aq)
Thus with the help of standard solution of KMnO4 solution you, can calculate the concentration of Iron in your sample.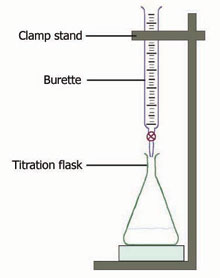 You can go through the following Sample IA of One of my student.
Research question: To find iron (II) [Fe2+] concentration (mol/l) of the apple juices?
Background Information:
Apple is a fruit of the domesticated tree Malus domestica. Apples vary between in each other in different aspects: acidity, shape, size, flavour and shade (red, yellow, green or mixture of colours).Mostly composed of water – 85%, carbohydrates – 13%, dietary fibre – 2% and other minerals, which includes iron.
Iron (Fe) is the transition metal of Group 8 of the periodic table. Iron is one of the essentials minerals for the human body. It is necessary for the production of haemoglobin, a protein in the blood which carries oxygen throughout the body and required for cell growth and differentiation. Iron in apples is non-heme iron (plant iron). 100 grams of an apple contains on average 0.12 mg (moles) of iron.
Iron (Fe2+) is oxidized by potassium manganate (KMnO4) (VII) to Iron (Fe3+). By this redox titration reaction, the iron concentration of apples can be calculated. Redox reaction half equations:
MnO4– + 5Fe2+ + 8H+ -> Mn2+ + 5Fe3+ + 4H20
As seen from equation, reaction only occurs when iron(II) is present since it can be oxidized further. As a result, all of Fe3+present in apple juice must be converted to Fe2+to get proper results from the experiment: to measure total concentration of iron. Therefore, juice will be mixed with an excess of the mild reducing agent, hydroxylamine hydrochloride (NH2OH · HCl), to turn Fe3+to Fe2+ :
4Fe3+ + 2NH2OH · HCl —> 4Fe2+ + N2O + 4H+ + H2
If you need personal guidance and one to one meeting, send us email at info@chemswot.com