Chemistry Keywords in the story
A day of Tejasvi
Chemistry Keywords in the story which is :In the morning Tejasvi awoke and searched his mom who was boiling eggs in a vessel. He went to get ready in the washroom and brush his teeth. He found his shirt to iron it. He ironed the shirt. He than gone to his mom and asked for the breakfast. His mom boiled the milk and given him. He added sugar into his milk and stirred with the spoon to dissolve the sugar. After getting ready he went to school. In school he saw some water vapours on the window glass. He discussed his friends about the water changing into vapours.
After school, he reached to his home and feel thirsty. He took a soda drink and open the lid with opener. He found the fizz and liquid with gas came out on his clothes. He asked his father about it. His father, a chemist, told him that CO2 is dissolved in this drink by applying pressure.
At night he ate apple and digested while he left some piece for his father but his father was busy. When his father came to eat apple, he found the apple turned red. He did not eat the apple piece. Tejasvi asked his father about the change in color of apple. His father told him the reason. After dinner he went to sleep because he was tired by the that time.
Good morning to you all. You do not sleep. Identify underlined words in the above story as physical or chemical change.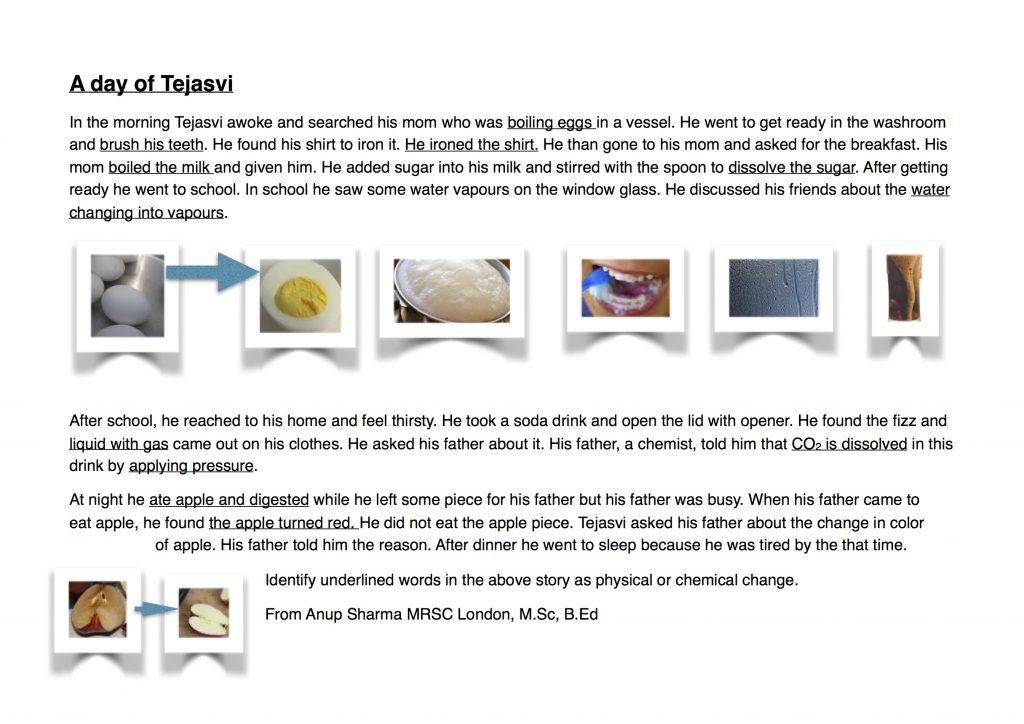 Find Cartoon of Elements